I am a PhD candidate in early modern Dutch literature and digital humanities at the University of Amsterdam. My research aims to reconstruct the Dutch translation and adaptation of Descartes and Spinoza (1640-1720) by combining methods from cultural history, literary studies and digital text analysis. Besides my work as a researcher I am an editor/ developer for LitLab at Utrecht University, a digital lab for research education on Dutch literature in secondary schools. I have a general interest in early modern philosophy, Dutch literature and computer code - and a weakness for contemporary jazz.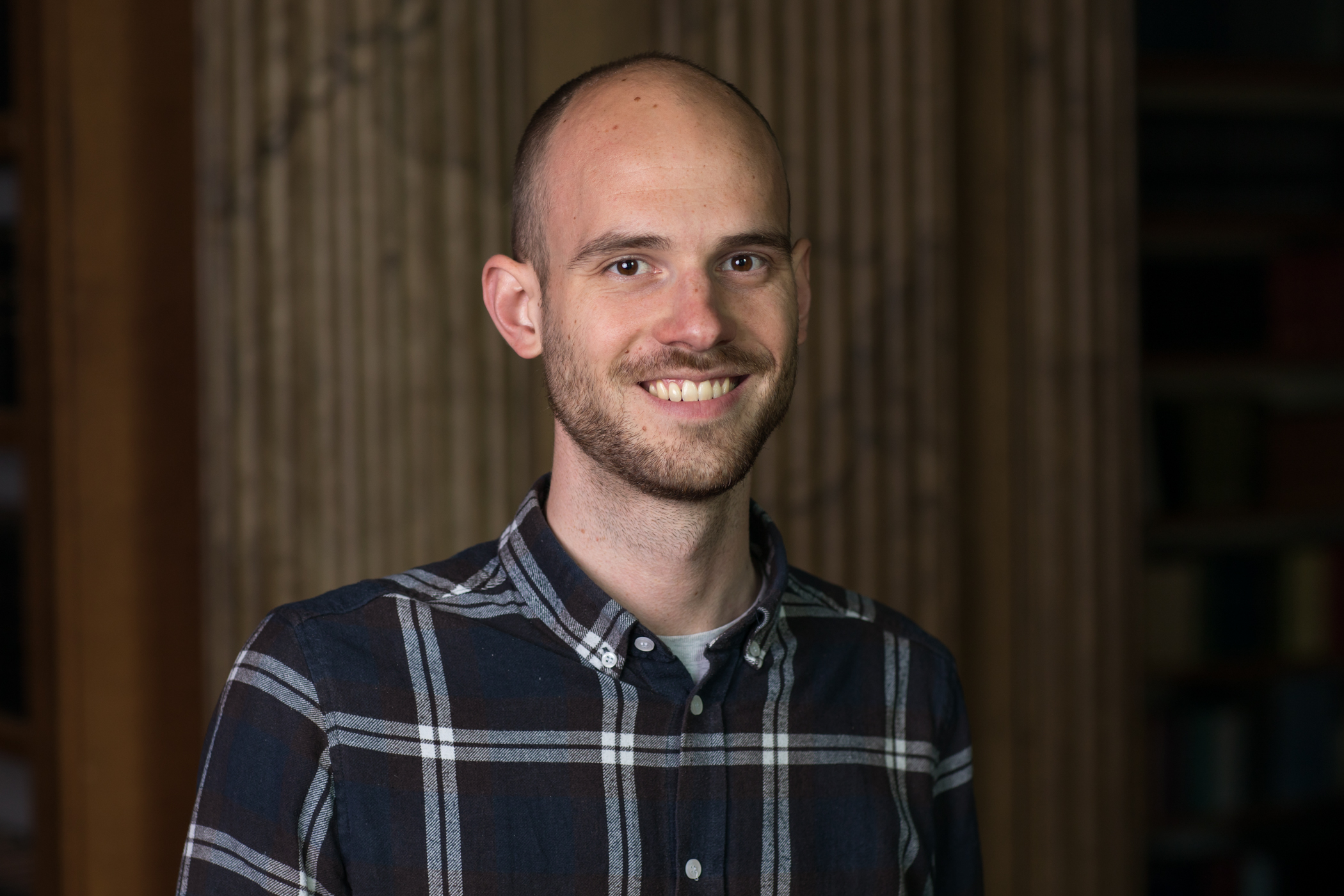 Foto: Inge Hoogland voor Faces of Science/NEMO Kennislink
PhD project
Radical Rumours

.

The translation and adaptation of Descartes and Spinoza in Dutch (1640-1720)
University of Amsterdam
The Dutch Republic was home to various philosophers who broke with traditional worldviews and accepted beliefs. The ideas of Rene Descartes (1596-1650) and Benedictus de Spinoza (1632-1677) left a profound mark on the intellectual climate of the Netherlands. Spinoza transformed Cartesianism into a disruptive discourse that became part of the so-called 'Radical Enlightenment'. According to Jonathan Israel's famous thesis, this discourse paved the way for the 'mainstream' Enlightenment decades later through discussions in both academic and popular (Dutch) domains. Cultural historians and philosophers have therefore studied the reception of Descartes and Spinoza extensively. They continue to debate the nature and influence of Cartesianism, Spinozism and related discourses in both the Latin and vernacular sphere.

However, qualitative research allows only a limited corpus, leaving the scale of the dissemination of these 'radical rumours' – disruptive and clandestine proto-Enlightenment beliefs – subject to speculation. Moreover, close reading is not sufficient to systematically describe the actual language - often informed by rationalist epistemology and purist language philosophy - of many Cartesio-Spinozists involved in translating Descartes and Spinoza into Dutch. In response to these methodological challenges, this project aims to analyse the dissemination of Cartesian and Spinozist discourses in Dutch texts using both qualitative and quantitative methods. It uses the growing body of digitised material and applies text mining to access a philosophical, clandestine discourse through the surface of textual features from a large and diverse corpus (printed between 1640-1720). Characteristic Cartesian and Spinozist idioms will be formalised through an analysis of the earliest Dutch translators of Descartes and Spinoza: Jan Henderiksz. Glazemaker (1620-1682), Pieter Balling (? - 1664), Jacob Copper and Steven Blankaart (1650 - 1704). By combining computer-assisted discourse analysis with close reading, this study provides a challenging new perspective to the vernacular dissemination of Cartesianism and Spinozism during the Early Enlightenment.

Supervisors:
This research is funded by a grant from the 'PhD's in the Humanities'-programme of NWO
profile
Publications
Peer reviewed
Professional
Literary criticism
Projects
LitLab
LitLab is a digital lab for research education on Dutch literature in secondary schools
LitLab is een digitaal laboratorium voor literatuuronderzoek op de middelbare school. Door middel van digitale experimenten kunnen bovenbouwleerlingen proeven van academisch onderzoek naar de Nederlandse literatuur in brede zin: van Middelnederlandse verhalen tot hedendaagse popmuziek. Daarnaast zijn er leesclubs waarin leerlingen leren de boeken die ze lezen vanuit onderzoeksvragen te bespreken. De lessen sluiten aan bij recent academisch onderzoek en richten zich voor nu op het gebruik van digitale methoden en collecties die voor iedereen toegankelijk zijn. Voor leerlingen die verder willen werken in die lijn, is er hulp bij het schrijven van een profielwerkstuk. Zo vormt LitLab een schakel tussen leerlingen, docenten en onderzoekers. LitLab werd ontwikkeld aan de Universiteit Utrecht maar is het resultaat van samenwerkende onderzoekers van verschillende universiteiten.

De redactie van LitLab bestaat uit: Els Stronks, Feike Dietz, Lucas van der Deijl en Anneroos Schoeman

Contact: info[at]litlab.nl


LitLab in de media
Daphne van Paasen, 'De Hollandsche Welsprekendheid. Neerlandistiek onder druk', De Groene Amsterdammer, 23-01-2019.
website
Faces of Science
The Faces of Science are a group of young researchers who share their experiences in academia through video's, blogs and articles.
Faces of Science is een initiatief van Nemo Kennislink en de KNAW. Het idee: jonge wetenschappers vertellen over hun leven en onderzoek aan de hand van filmpjes, blogs, artikelen en meer. Vanuit verschillende achtergronden nemen zij je mee in de wereld van de wetenschap.
Blogs
De taal van de Verlichting, 16 april 2019
De idiote toevalligheid van het leven, 16 april 2019
website
Personagebank
Personagebank is a crowd-sourced database of characters from contemporary Dutch novels (post-1945)
De Personagebank is een crowdsourced, open database van personages uit Nederlandstalige romans. Het platform is ontwikkeld door studenten Nederlandse letterkunde aan de Universiteit Utrecht. Onder leiding en op initiatief van dr. Saskia Pieterse deden zij onderzoek naar de diversiteit onder bijna 1200 personages in 170 Nederlandstalige romans. De resultaten verschenen in het Journal of Dutch Literature en vormen de basis voor de Personagebank. Doel van het project is om de diversiteit van de Nederlandse literatuur te tonen en veranderingen van literaire representaties door de jaren heen te begrijpen.


Personagebank in de media
website
Talks & workshops
Deijl, L.A. van der, 'De LitLab Leesclub: herkennend en onderzoekend lezen in een interactieve gespreksvorm', Lezen Centraal 2019, Utrecht 10 April 2019.
Deijl, L.A. van der, Workshop Literatuuronderzoek met LitLab, Uitreiking De Inktaap 2019, Rotterdam 12 March 2019.
Deijl, L.A. & F.M. Dietz, Workshop De LitLab Leesclub, Dag van het literatuuronderwijs. Rotterdam 20 November 2018.
Deijl, L.A., F.M. Dietz & E. Stronks, 'De LitLab Leesclub: herkennend en onderzoekend lezen in een interactieve gespreksvorm'. HSN 2018. Brussels 17 November 2018.
Deijl, L.A., F.M. Dietz & E. Stronks, 'LitLab: een digitaal laboratorium voor literatuuronderzoek. Mogelijkheden voor de internationale neerlandistiek'. IVN Colloquium. Leuven 24 August 2018.
Deijl, L.A. van der, 'The collaborative Dutch translations of Descartes by Jan Hendrik Glazemaker (1620–1682)'. Society for Renaissance Studies, Sheffield 3-5 July 2018.
Deijl, L.A. van der & R.J.H. Smeets, 'De Nederlandse Canon volgens Google en Wikipedia. Literatuurgeschiedenis in het internettijdperk'. Achter de Verhalen, Antwerp 18-20 April 2018.
Deijl, L.A. van der, 'Jan Hendrik Glazemaker. The Dutch translator of Descartes and Spinoza'. Renaissance Society of America, New Orleans 22-24 March 2018.
Deijl, L.A. van der, 'Jan Hendrik Glazemaker. Translating poetics and the Latin language'. Literatures without Frontiers, Ghent 9-10 February 2018.
Deijl, L.A. van der & R.J.H. Smeets, 'Character Centrality in Bonita Avenue (2010)'. Plotting Poetry, Basel 6 October 2017.
Deijl, L.A. van der, E.M.P. van Gemert, E. van Zummeren, 'Spinozist discourse in Dutch textual culture' (1660-1720). DH Benelux, Utrecht 4 July 2017.
Deijl, L.A. van der & E.M.P. van Gemert 'Limits and opportunities of digital text analysis for Enlightenment history'. Digitizing Enlightenment II, Nijmegen 16-06-2017.
Contact
PC Hoofthuis, room 4.52
Spuistraat 134, 1012VB Amsterdam
l.a.vanderdeijl [at] uva.nl